Cross the divide between art, SEO and usability
Every word, picture, link and call-to-action is working as hard as it can be to bring you new business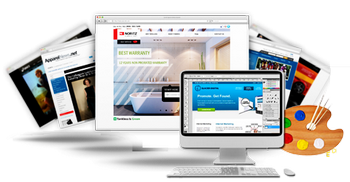 While best known for our website designs and digital ads, Rapidas Group is ready to provide high quality graphic design to our clients. Our graphic artists can help with creating your marketing collateral for various needs, from business cards and brochures, to trade show displays, signage, and print advertisements.
Our team utilizes the Adobe Creative Suite, including Photoshop and Illustrator, to create high resolution graphics to meet your various needs. We provide drafts based upon your initial requests and input, and then use your feedback to work toward a final product. When we're done, we can provide you with print-ready and/or web ready files so that you can utilize your custom graphics in whatever medium you need.
While clients often provide much of the content for our graphic designs directly, we also offer to use stock images to help fill in the gaps. You still get to choose the images from a major vendor, such as Shutterstock, but you can save yourself from needing to hire a photographer or having to invest into a designer drawing out particular icons or graphics from scratch when possible.
Best of all, Rapidas Group can make sure that all of your design collateral, whether for digital or print mediums, keeps true to your latest branding. We can help make sure that your website, social media, online banner ads, and general internet presence are in sync with your printed items and other traditional marketing pieces.
Responsive Website Design
Responsive website design is a necessity in today's business climate. Five years ago nobody was even talking about how your website looked on a mobile phone or tablet. As the use of smart phones, iPads and tablets began to grow, it became necessary to build a mobile version of your website. Now, it's all about responsive website design. Responsive design uses a language called HTML 5 which will automatically resize and reformat your website based on the screen size that the user is viewing it on.
46% of all searches happen on a mobile device and that number is growing every year.
Having a website that responds to whatever device the user is on is no longer a luxury, it's a necessity anymore – it's expected. We'll help you create an online user experience that has people fall in love with your brand and buy your stuff.
Get the right partner for Web Design services
Join the thousands of businesses who have cut through the complexity of Web Design thanks to Rapidas Group.
Fill out the form and our expert contact you ASAP.